Affordable Local Marketing Services
Small business marketing that gets results and doesn't cost the earth...
We help small businesses get more local customers through SEO and Google Ads for a price they can afford.
Book a friendly, no-obligation call with one of our strategists to find out how we can help grow your business online.
Small business marketing is difficult!
Establishing and growing an online presence for your small business is no easy task and doing it well enough to drive a consistent stream of local customers is even more difficult.
Don't get distracted from running your business.
While online marketing should be a priority for any business, it shouldn't get in the way of operations.
Often, small business owners add marketing to their ever-growing list of tasks, leading them to neglect what is really important – running their business and providing exceptional customer service.

Let us bring you more local customers!
We use tried-and-tested strategies that we've developed over many years, to drive more customers to your website and help grow your business online using two primary services – SEO and Google Ads.
At heart, we're a Search Engine Optimisation (SEO) agency and we specialise in local SEO.
Local SEO is the practice of driving local, highly-targeted and relevant visitors from Google's organic (non-paid) search results, directly to your website.
Our research and targeting ensures that these visitors are local to your business and interested in your services; making them more inclined to convert into paying customers.
Our other speciality is Pay-Per-Click (PPC) online advertising, otherwise known as local Google Ads.
Local Google Ads is the art of driving targeted local visitors to your website from Google's paid listings (the ads you see at the top of Google's search results).
Backed by our robust research, our ad campaigns ensure that we drive the most relevant visitors to your website, drive maximum conversions, and provide you with the best possible ROI.
Interested in working with us?
We'd love to hear about your business, so feel free to get in touch for a friendly, free and no-obligation call where we'll review your current position and offer honest and open feedback and advice.
We're different from other agencies. We don't care about vanity metrics – we only focus on things that will provide you with a positive ROI, generate you more customers and grow your business online.
Focus Clinics is a laser eye surgery clinic based in London – a very competitive industry and location.
When they came to Acadia, their SEO and Google Ads campaigns were in a bad way – not properly tracked, poorly designed and managed, and not profitable.
The data below shows how we took control of their project and drastically turned them around – implementing proper tracking and analytics, completely redesigning landing pages and setting up new campaigns, and most importantly, turned the campaigns from loss-making to hugely profitable.
Increase in Conversion Rate
Reduction in Cost per Conversion
In January 2019, we began work on the Focus Clinics project with a view to increasing our new client's return on investment across both his SEO and Google Ads campaigns.
Focus Clinics provided laser eye surgery in central London – a highly competitive location and within a highly competitive industry.
They were driving just 33 conversions from a total of 5,160 visitors, with a pretty awful conversion rate of just 0.64% and a cost per conversion of a whopping £255.
We immediately got to work setting up entirely new campaigns, redesigning key landing pages following our proven sales flow, implementing Conversion Rate Optimisation (CRO) best practices, and implementing full tracking and analytics so we could accurately measure the results of our actions.

Fast-forward to August 2020 and we had successfully turned the Focus Clinics project around.
We had increased clicks (visitors) by 23.64% to 6,280, but more importantly, we had completely changed those visitors from non-relevant, low buy-intent visitors to highly-relevant, high buy-intent visitors, thus increasing conversions by 575.75% from 33 to 223.
While we increased Focus Clinic's conversion rate by 454.69%, we also massively reduced their cost per conversion by 78.62% from £255 to just £54.53.
By implementing our tried-and-tested processes, we were able to save our client money, while increasing their overall revenue and, ultimately, we made our client's project profitable, providing a hugely positive ROI and ensuring they could continue to grow their business.

"What the Acadia Team Has Been Able to Achieve is Pretty Phenomenal.
To say that the experience has been game-changing for my business would be an understatement. Having worked with 2 previous agencies in the past which saw very poor results, what Acadia has been able to achieve is pretty phenomenal..."
Why our customers love working with us...
Whether it's our high quality of work, our effective communication, or our ability to deliver proven results, our clients value the services we offer, forging long-lasting professional relationships.

for an informal chat about how we can help grow your business.
If we're an agency you can see yourself working with, please don't hesitate to schedule a call where we can discuss your business in more detail. It's completely FREE and there's no obligation whatsoever.
Here's what our customers have to say about our local marketing services and how we've managed to help them grow their businesses.
"If you like rank boners and making cash, Acadia are the guys to call.
With over 10 years of making my living full time in the SEO & Digital Marketing game, I've worked with agencies of all shapes and sizes.

I'm so happy I gave the guys at Acadia a chance...

Working with them the past 6 months I've been able to scale far more rapidly than I would have on my own, and I'm already massively +ROI on every dollar I've spent with them."
"Working with Acadia is a dream come true for any business owner who doesn't have the time, nor skill set to manage their online presence.
Having first settled with several other agencies, there's no comparison to the level of expertise, comfort, and ease that the Daine brothers and company provide.

I trust their judgment and value our relationship, in knowing they care for my small business as if it were their own.

Well worth every penny, to sleep at night, and to greet new prospects every day!"
"What the Acadia Team Has Been Able to Achieve is Pretty Phenomenal.
To say that the experience has been game-changing for my business would be an understatement.

Having worked with 2 previous agencies in the past which saw very poor results, what Acadia has been able to achieve is pretty phenomenal..."
"It's that one rare chance in a million that you are lucky enough to work with a company like Acadia.
With Acadia, you have it all at one agency - off the charts knowledge of SEO, paid ads, marketing silos, email marketing, plus the technical background to make sure that your websites are running top notch."
Six reasons why you should choose Acadia
Don't waste time with invoices – our automated online payments system allows our customers to choose a package that suits their budget, sign up straight away, and pay by card to avoid those annoying invoice reminders.
No Contract. Cancel Anytime.
We feel so strongly that our results should do the talking for us, that we've completely scrapped minimum term contracts for our customers, meaning that you can cancel for any reason, at any point, by giving just 30 days notice.
We're driven by two things; growth and quality. Together two principles combined ensure we strive for the very best results for both ourselves and our clients – when one of our clients is successful, it means our agency is successful, too.
As a family-run small business, we know what it's like to run a growing company and just how busy that can be. We also know how important cash flow is; that's why we give our everything to partnering with you in order to help you thrive.
While you may be looking to outsource your marketing operations, we know that it's important for small business owners to keep their hand in everything that's going on in their company – that's why we'll communicate with you regularly.
Above all else, we'll do absolutely everything within our power to see your business succeed online and to deliver you the results you expect and deserve from your marketing agency – this is our number one priority!
Simple and affordable pricing
Like everything, we like to keep pricing as simple as possible and charge an extremely affordable daily agency rate.
We've estimated that the minimum amount of time we need to spend working on a client project in order to see results is one day per month.
Clearly, the more time we spend on a project, the quicker and more dramatic the results.
This approach enables us to cater to businesses of all shapes and sizes and accommodate all budgets.
We've broken our service down into five time-based packages, although custom packages can be created to suit individual budgets.
We're a family-run digital marketing agency that truly cares about your return on investment and growth.
Consisting of five brothers and one cousin, our leadership team is made up of a software engineer, technical SEO, link building and outreach specialist, Google Ads expert, content production connoisseur, and a business operations lead; providing the holistic expertise we need to grow our clients' businesses online.
We have decades worth of combined marketing and development experience and we pride ourselves on delivering quality work, on time, every time.
Gareth Daine
Founder & CEO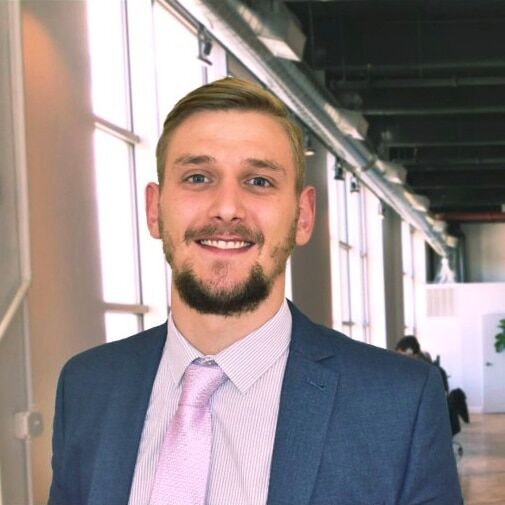 Request Free Consultation
Want a trusted partner to help grow your business online?
Book your FREE no-obligation call to discuss your business's current performance and hear our recommendations on how we feel you could grow.